IMG_20190926_143644_compress48
IMG_20190926_143644_compress48
St. John's Pharmacy College
St. John's Pharmacy College, Approved by AICTE and PCI, New Delhi, Affiliated to Rajiv Gandhi University of Health Sciences, Karnataka and Board of Examining Authority, Recognized by Government of Karnataka. established in 2014 with the prime motto to serve the best quality based pharmaceutical education and the campus is advantageously located in a well-known green city of Bengaluru and has an extensive vicinity of land surrounded with congeal and pleasant learning atmosphere.
St. John's Pharmacy College, Vijayanagar, Bengaluru is one of the proud limb of EWGI has always stood for discipline and the molding of character of its students. Our college prides itself in imparting best part of education by providing a strong foundation for the holistic education. SJPC stands testimony to the high professional standard aimed for and achieved by the EWGI.
Davangere on 5th APRIL 2023
East-West Group of Institutions (EWGI), Established in 1968 is the dream initiation of Founder Sri. Late C M NAGARAJ, visionary par excellence, an educationist, a philanthropist, and a former Mayor of Bangalore City. Enquire Now [contact-form-7 id="4395717"...
Admissions Open
for the year 2023-24
To provide quality Technical Education in Information Science & Engineering with Enriched Knowledge and Research Skills to Meet the Emerging Challenges with Ethical values
M1
To prepare students with strong fundamental concepts, analytical capability, programming and problem solving skills
M2
To impart Technical knowledge inculcating real time research experience to promote industrial & societal needs
M3
To motivate and encourage skill based activities for transforming creative ideas to real time workable products
M4
To prepare graduates to meet carrier challenges with a blend of social, human and ethical values
St. John's Pharmacy College – Distinction holders
B. Pharma Examination May / JUNE- 2023 and NOV / DEC 2022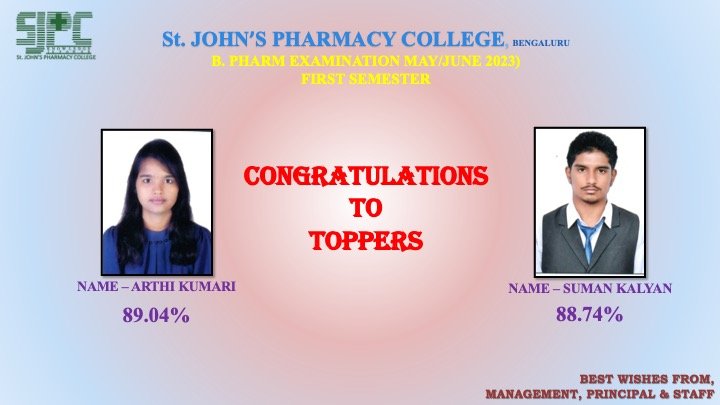 Why St. John's Pharmacy College?
EWGI upholds its unflinching recognition in all respects of academics and is celebrating 52 years of academic excellence, honing the life of every student with a code of conduct.
Well Equipped Laboratories
The college has well equipped laboratories for students to perform experiments in subjects of Diploma in Pharmacy, Bachelor of Pharmacy, Bachelor of Pharmacy(Lateral) & Doctor of Pharmacy.
Full Stacked Library
A home of Information & Resource Center for learning. It is epitomized as a house of knowledge that instantly provides staff and students an extensive multiplicity of resources and services where teaching and learning flourishes.
Sports Facilities
SJPC indoor & outdoor sports facilities includes table tennis, badminton, carom, chess etc. The vast outdoor field serves perfect for tournaments such as Basketball, Cricket, KhoKho, Kabbadi, Netball and Throw ball.
Seminar Hall & Auditorium
The college is facilitated with a seminar hall and an auditorium for the purpose of organizing events & activities, practice & performances. SJPC encourages and extends support for various Cultural activities.
Hostel for Boys & Girls
SJPC provides in-campus comfortable and well hygienic hostel accommodation separately for boys and girls. We have been trying to make the hostel the next best place to be in after home.
Transport Facility
Safety of our students is our prime concern. Thus, our transport facility is fully equipped to provide the safest & the most convenient transport solution. SJPC provides excellent transportation facilities with a fleet of buses.
Education Par Excellence
SJPC fashions the students from all nooks as true champs to view themselves as great ambassadors of our country.
COURSES OFFERED @ SJPC
SJPC, Vijayanagar, Bengaluru offers vivid courses in the field of Pharmacy education.
Dept of Pharmaceutical Chemistry